Food and Lifestyle staat weer in het nieuwe Amplified magazine! Het thema van het magazine was deze keer 'Team spirit' dit keer dan ook een shared dining recept, leuk om te delen met meerdere personen maar ook leuk om met z'n 2-en te eten! Wat ook leuk is, is dat het recept dit keer in het Engels hieronder staat, zo kun je het ook delen met buitenlandse vrienden of kennissen! Wil je het in het Nederlands? Stuur dan even een mailtje!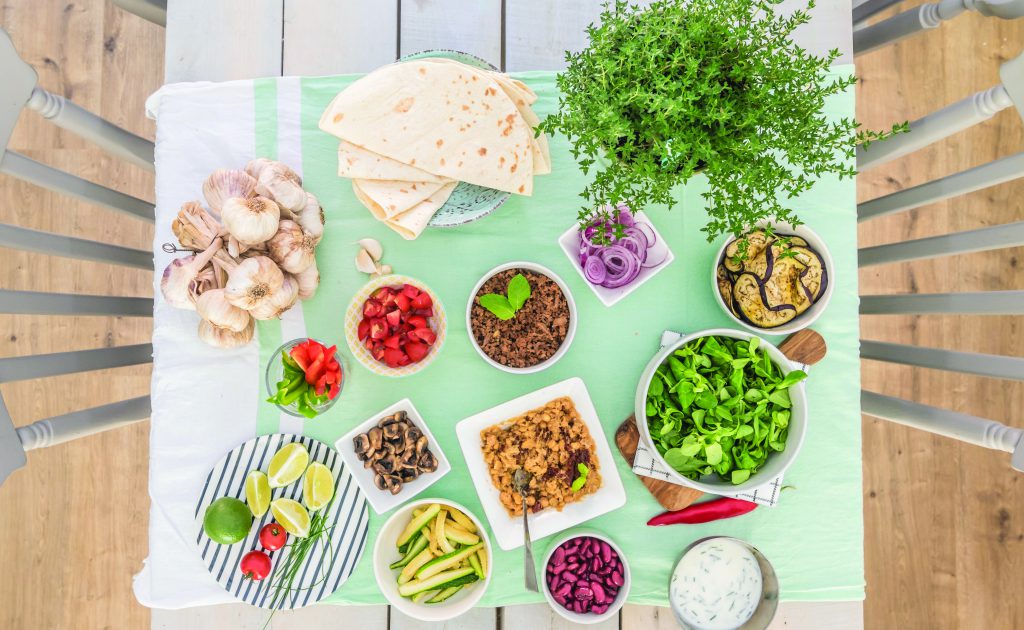 Especially for this Amplified number a healthy recipe for a sharing diner. As (sports) dietitian, I recommend everybody to eat a varied diet because you need the nutrients for your body.  Therefore, I hereby present a recipe with a lot of vegetables with the possibility to add chicken/meet or shrimps. The amount of tortillas could differ, depending on the amount of people you are sharing with. Enjoy your meal!
Recipe: Wraps with grilled vegetables and chicken/meat or shrimps
What do you need for 6-8 persons?
12-14 flour tortillas
400 gram chicken/ meat or shrimps
200 gram Lamb'slettuce
200 gram mini tomatoes
200 gram mushrooms
200 gram kidney beans
2 eggplants
2 red peppers
2 green peppers
1 zucchini
1 onion
Salt and pepper
What should you do?
Pre- heat the grill oven on 200°C for the grilled vegetables. Start cutting the zucchini, tomatoes, mushrooms, peppers, onion, lime and chicken (possibly).  Grill the eggplant under the grill for 15 minutes on 2 sides. Fry the mushrooms, eggplants and zucchini in the oven or grill pan for only 3 minutes. You could use the other vegetables raw and put all the vegetables in different plates. Start making the two different wrap sauces and heat the tortillas for 20 seconds in the oven.  After that you can spread the sauces, taking some vegetables and lamb's lettuce and fold the tortillas.
Recipe dried Tomato hummus
What do you need?
–          300 gram chickpeas
–          100 gram dried tomatoes
–          1 clove of garlic
–          2 spoons olive oil
What should you do?
Start cutting the tomatoes, crushing a clove of garlic and combine with the chickpeas. Add some salt and pepper and 2 spoons of oil and mix it to hummus sauce. Use the hummus as a spread and fill the wrap.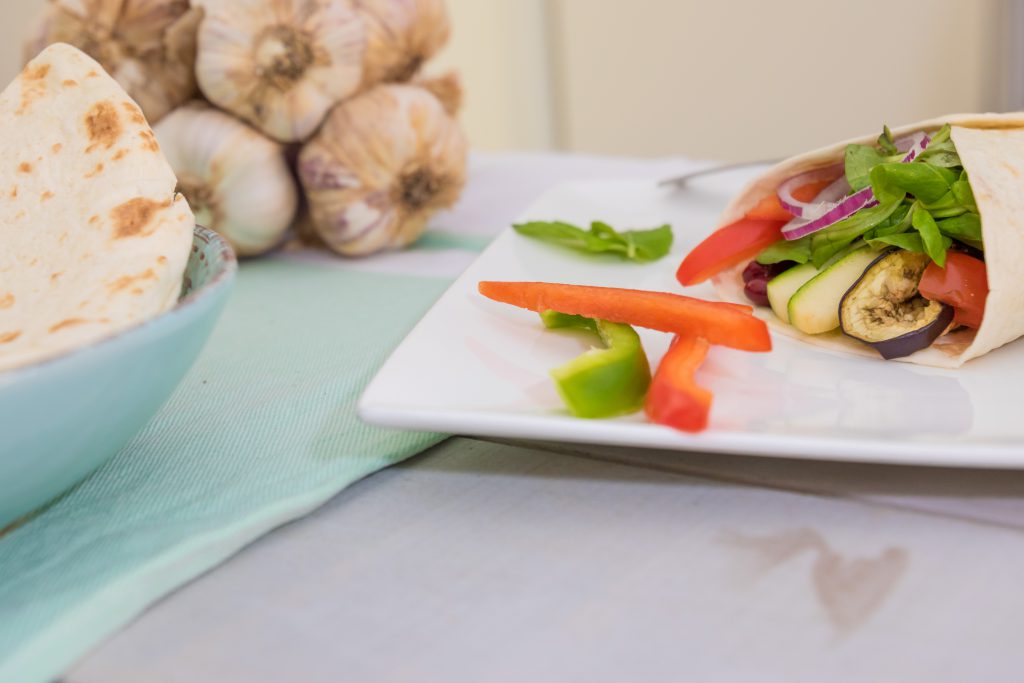 Recipe Yoghurt sauce
What do you need?
200 gram (greek) Yoghurt
50 gram chive
Pepper
½ lime
What should you do? Cut the chive and lime and squeeze the lime. Mix the chive, yoghurt, lime juice and pepper. Ready! Easier is almost not possible, use it as spread for your wraps and enjoy your meal!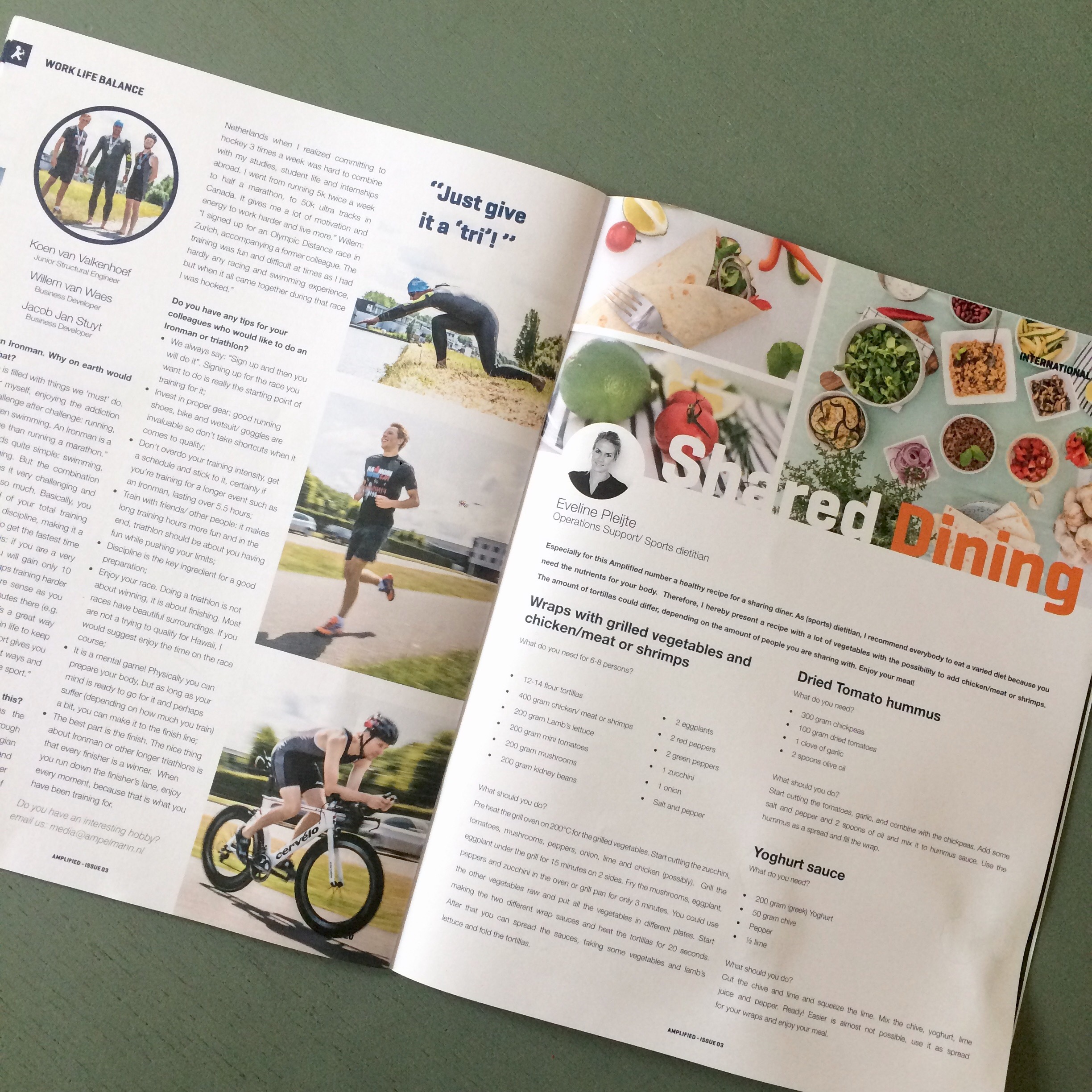 Foto's gemaakt door: Jaco Markus